Becker, Michael (Trombone)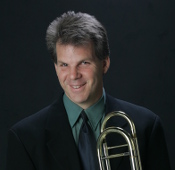 Michael Becker was appointed Principal Trombone of the Tucson Symphony Orchestra in 2000 and Second Trombone of the Arizona Opera Orchestra in 2008. In addition, he is Bass Trombone of the Britt Festival Orchestra in Jacksonville, OR. Formerly, he served six seasons as Second Trombone of the Honolulu Symphony Orchestra and one season as Principal Trombone of the Savannah Symphony Orchestra. He has performed and recorded in orchestras across the United States and abroad, most notably in the Chicago Symphony as first call substitute since being a finalist for a position in that orchestra in 1989. Michael has performed, recorded, and toured with the CSO under luminaries including Sir Georg Solti, Daniel Barenboim, Pierre Boulez, and Ricardo Muti. He has performed, toured, and recorded extensively with the Detroit Symphony Orchestra under Neeme Järvi. He can be heard as one of three featured trombonists in the recording of Michael Daugherty's Motor City Triptych. Mr. Becker has also performed with the London Symphony, St. Louis Symphony, Lyric Opera of Chicago, New York Philharmonic, Malaysian Philharmonic, Bergen Philharmonic, Charlotte Symphony, Alabama Symphony, Atlanta Symphony, and Sir Georg Solti's World Orchestra in Geneva, Switzerland, Baden Baden, Germany, and London. In the summer, he has performed at the Grand Teton Music Festival, Grant Park Symphony Orchestra, Ravinia Festival, Cabrillo Festival, the Chautauqua Festival, and Arizona Opera's Wagner Ring Cycle. Mr. Becker has also been Bass Trombone of the Colorado Music Festival and has performed in Yo Yo Ma's Silk Road Ensemble. He received his Bachelor of Music in Trombone from Indiana University and his Master's Degree from Arizona State University.
As a dedicated teacher, Mr. Becker has presented clinics at major universities throughout the country. He has also served as adjunct Professor of Trombone at the University of Hawaii, Manoa and the University of Arizona, and as Visiting Professor of Trombone at the University of Georgia and Northern Arizona University.
In 2005, Mr. Becker created and launched the annual Becker Low Brass Boot Camp in Tucson, Arizona. This weeklong, intensive workshop, with a focus on developing audition skills and preparation, attracts students and young professionals from around the country who are pursuing a career in symphony orchestras.
As an active soloist and chamber music artist, he has had two works written for him, Still Points Concerto by Peter Askim and Characters, a sonata by Carmela Cinco, and has performed as soloist with ensembles including the Tucson Symphony Orchestra, The Idylwyld Arts Academy Orchestra, and the Tucson Pops Orchestra. Mr. Becker is a member of the Tucson Symphony Brass Quintet, performing more than forty concerts annually. He has been an active solo recitalist across the nation at major universities and can be heard on his solo bass trombone recording, Songs and Dances.
For more information about the Becker Low Brass Boot Camp, please visit www.beckerlowbrassbootcamp.com