Lapins, Alexander (Tuba)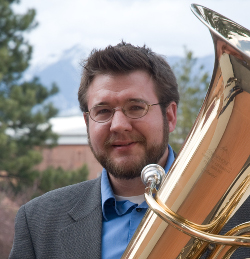 Alexander Lapins teaches applied tuba and euphonium, coaches chamber music, and is a member of the Elden Brass Quintet at Northern Arizona University. Also an instructor at the Blue Lake Fine Arts Camp, Dr. Lapins has previously taught at the University of Indianapolis, Indiana State University, Indiana University, University of Michigan All-State Program at Interlochen, Detroit Symphony Civic Orchestra, and French Woods Fine Arts Camp. Dr. Lapins has graduate degrees in tuba performance from Indiana University and the University of Michigan, and a Bachelor's degree in Music Industry from James Madison University.
Dr. Lapins performed as a member of many orchestras and brass quintets throughout Indiana for several years, and was a first-call substitute/extra musician with the Indianapolis Symphony and Chamber orchestras. While in Indianapolis, he was also a first-call studio musician, and can be heard on hundreds of recordings for Hal Leonard, Disney, Plank Road, Sacred Music Services, and a variety of other publishers and record companies. Dr. Lapins is the only tubist to have held fellowships at both the Tanglewood Music Center and the Henry Mancini Institute, and he has also performed with the Guy Lombardo Orchestra, The New Sousa Band, Harvey Phillips' Tubacompany, and Charleston, Chicago, and Cincinnati symphony orchestras.