A Systematic Approach to Flexibility for Trumpet by James Ackley is appropriate for all levels of trumpet players.
82 pages, spiral bound to lay flat on the music stand.
A Systematic Approach to Flexibility for trumpet provides a logical, efficient way to improve lip slurs. By starting slow and easy, players learn the important concepts of moving the air across note changes to achieve smooth, clear slurs. Once this fundamental skill has been established, the exercises progress logically through more challenging patterns, adding one partial at a time.
By working from this book, players will improve their flexibility, accuracy and dexterity on trumpet, becoming more efficient and musical.
Allen Vizzutti, International soloist, educator, composer & recording artist (USA), says:

"A Systematic Approach to Flexibility for Trumpet by James Ackley delivers an organized method of study exactly as the title states and much more. The fundamental concepts skillfully presented are crucial to consistent & successful trumpet playing. Clear, logical and succinct studies abound. Ackley's insistence on musical phrasing and beautiful sound throughout the work's pages is an important idea with which I completely align. Every serious trumpet player should have this book in his or her library. Every minute focused on working from this material will be time well spent. There is no doubt in my mind that studying A Systematic Approach to Flexibility for Trumpet will result in considerable improvement in one's trumpet playing."
Vince DiMartino says:

"This book is more than what it says! It is a very well organized method that helps develop and maintain both flexibility, playing balance and range. The thoughtful use of the flutter tongue will find much success for people who try it. It will find a permanent place on many of our music practice stands!"

Anthony Plog says:

"This is a wonderful book that presents both the student and professional with a systematic way to improve their flexibility. When I was a student, and later a professional player, I always felt that my flexibility was a weakness that needed constant attention. Had James Ackley's book been around when I was playing, it would have changed that weakness into a strength.
Manny Laureano says:

"James has truly created an encyclopedia of lip slurs! I like the variety and the gradual, systematic approach to the upper register. Congratulations!"
Eric Aubier, International soloist & educator (France) says:
"Everyone knows the importance of flexibility with playing the trumpet. The intelligence of the writing and explanations in these flexibility exercises by James Ackley, makes this a unique tool that is indispensable. I especially like how James links his explanations to performing these exercises parallel to the air usage and phrasing which, for me, is an inseparable aspect of the art of trumpet playing. James, thank you for this beautiful work."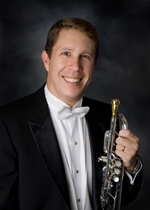 Trumpeter James Ackley enjoys an international career performing as a soloist, recitalist and clinician across Europe, Asia, and North, Central and South America. Venezuelan critics hailed James as "…one of the best trumpet players in the world today" from his performances on tour in South America, and the Hartford Courante called James "spellbinding" and "a true artist". James performs under Andes International Management.
Originally from Cincinnati, Ohio, James received his BM from the Baldwin-Wallace College Conservatory of Music and his MM from the Cleveland Institute of Music, and completed additional DMA studies at the Cincinnati College-Conservatory of Music. Former teachers include Michael Sachs, principal trumpet of the Cleveland Orchestra, James Darling, retired member of the Cleveland Orchestra, Mary Squire, retired principal trumpet of the Ohio Chamber Orchestra, Eugene Blee, retired principal trumpet of the Cincinnati Symphony Orchestra and Alan Siebert, former principal trumpet of the San Diego Symphony Orchestra.
Presently, James is dedicated to his career as a soloist, having released several solo albums: Recital Music for Trumpet (Claronade Records), Lírico Latino: songs for solo trumpet (MSR Classics), Gabriel (Beauport Classical), and New American Music for Trumpet (Beauport Classical). James also founded the trumpet ensemble Tromba Mundi, who have a self-titled album: Tromba Mundi (MSR Classics). James maintains a busy teaching schedule as Associate Professor of Trumpet at the University of South Carolina and during the summers teaches at the Carolina Summer Conservatory. He was appointed principal trumpet of the Augusta Symphony Orchestra in 2007 and has been a member of the award winning Bala Brass Quintet since 2011.
In 2000, James founded the ATC (Asociación de Trompetistas Colombianos – Association of Colombian Trumpeters) to answer the call of the International Trumpet Guilds' quest for excellence in brass education and performance. He has returned on various occasions since 2000 to perform as an invited artist and further foster the association's goals and ideas. James has been a featured soloist and has often performed world premieres at the 2004, 2006, 2007, 2009, 2011 and 2012 International Trumpet Guild Conferences, where he has also acted at a judge for both the solo and excerpt competitions. James has been a judge for the National Trumpet Competition since 2003 and sits on the board of directors of the ITG since 2009. In 2011, he helped adjudicate the China National Trumpet Conference solo competition in Shenyang, China.
Having performed as principal trumpet in various orchestras in the U.S., Mexico and Colombia, James has also worked with some very distinguished musicians such as Zubin Mehta, Louis Lane, Arturo Marquez, Ricardo Zohn-Muldoon, Karim Al-Zand, Robert J. Bradshaw, Leonard Bernstein, Jahja Ling, Christoph Eschenbach, Placido Domingo, Fransisco Rettig and James Levine. He has performed with such groups as the Charlotte Symphony, Charleston Symphony, South Carolina Philharmonic, Waterbury Symphony, New Britain Symphony, New Haven Symphony, Ohio Chamber Orchestra, Dayton Philharmonic, Moscow State Radio Symphony, Aguascalientes Symphony, Cincinnati Symphony, Los Solistas de Mexico, Bogotá Philharmonic, Valle Philharmonic, and the Shanghai Philharmonic Orchestras, among others. In addition, James has distinguished himself as a composer and arranger, publishing material under the editorial visage of the Cimarron Music Company. James lives in Lexington, SC with his wife, Yesenia, and their two sons, Kevin and Joshua.
James Ackley is a Yamaha Performing Artist and Clinician.