Daily Routines for Horn by Marian Hesse is appropriate for horn players high school age and up.
122 pages, spiral bound to lay flat on the music stand.
Save $4.90 when you buy Daily Routines for Horn and Daily Routines for the Student Horn Player together
Daily Routines provides a systematic way to develop and improve fundamentals. There are 8 routines, each divided into skill categories: long tones, crescendo/diminuendo, flexibility, subito dynamics, resonant low playing, tonguing on one note, tonguing and moving around, high range and low warm-down. Each of the 8 routines is devoted to a particular broad topic, such as Range. Players need only play one routine a day to develop and maintain fundamental skills.
Preface by Lowell Greer:
"Marian Hesse has been recognized as one of the leading virtuoso horn players of our day. A pupil of several reknowned teachers, she has enjoyed a brilliant career in many concert venues, but most especially as the horn player in the Chestnut Brass Company. Within this ensemble, she has had to repeat her mastery and musical accomplishments over and over, with a variety of early brass instruments. In the process of mastering and maintaining skills on so many instruments, she has developed a methodology of rare efficiency. She is currently horn professor at the University of Northern Colorado, where the size and quality of her class has manifested her gifts as a mentor and pedagog. Out of her exceptional teaching experience and analytical mind, she has compiled a set of Daily Routines for Horn which will prepare the player, novice or advanced, for those tasks one faces in musical life. These are studies which will prepare the lips and musculature to safely and effectively perform in all registers with flexibility, fluidity, and strength, at all dynamic levels.
While the Daily Routines are, like all such studies, repetitive, sequential, and progressive, any tedium is broken in innovative ways which will keep the player involved and help avoid boredom. Periods of rest from playing are included, and should be meticulously observed, allowing the human body to adjust to the labors involved in playing each study, without any ensuing stiffness or fatigue that might, otherwise, cause temporary breakdown of the lip tissues. It is anticipated that proper use of Hesse's Daily Routines will provide a technical breakthrough for many players whose development has become blocked or whose improvement has "leveled out" during the practice of traditional study materials.
Within the competitive life of a musician, and during the activities we undertake, these studies will certainly be of great value. They might just be the nearest thing to a secret strategy that a horn player will find."
Visit hornroutines.com for more information and product samples.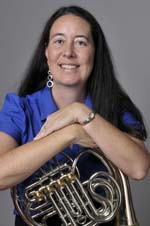 Grammy winning hornist Marian Hesse is Associate Professor of Music at the University of Northern Colorado. A member of the renowned Chestnut Brass Company, Ms. Hesse is an accomplished performer on brasses including the natural horn, sacbut, saxhorn and the rare quinticlave. She has performed as principal horn with the Chamber Orchestra of Philadelphia, the Boulder Bach Festival, the Philadelphia Virtuosi and the Kansas City Camerata. Having toured in 49 of the United States, she has had concert appearances in the Cayman Islands, Korea, Brazil, Mexico, Canada, Germany and Hungary. Among her more than a dozen recordings are performances as horn soloist on the Grammy award winning Chestnut Brass Company recording Hornsmoke and performances with the Mozart Orchestra, the Philadelphia Virtuosi, and the soundtrack recording of the Ken Burns Civil War television program. Ms. Hesse was elected to the Advisory Council of the International Horn Society, and is on the boards of the International Horn Competition of America(IHCA) and the American Hunting Horn Society. She serves on juries for the IHCA and the Jeju (Korea) International Brass Competition. Ms. Hesse has presented masterclasses at Interlochen, Juilliard, Ohio State, and the University of Oregon, among others. With the Chestnut Brass, she has been a finalist in the esteemed Naumburg Chamber Music Competition and a semi-finalist in the Erwin Bodky Early Music Competition. A graduate of Yale University (MM) and the University of Northern Colorado (BM), she also holds certificates in Non-Profit Management and Fundraising from the Wharton School of Business of the University of Pennsylvania.