Daily Routines for the Student Horn Player by Marian Hesse is appropriate for horn players in junior high and high school.
58 pages, spiral bound to lay flat on the music stand.
Save $4.90 when you buy Daily Routines for the Student Horn Player and Daily Routines for Horn together

This book is an easier version of Daily Routines for Horn. Daily Routines for the Student Horn Player covers basic topics, including air, ear training and easy fundamental skills. It's a great way to help young players establish healthy, productive practice habits.
Visit hornroutines.com for more information and product samples.
In the Teacher Introduction, author Marian Hesse writes:
Daily Routines for the Student Horn Player provides your students with a systematic way to develop and maintain their fundamental horn skills. To use this book, students should play one routine a day; since there are 8 routines, students can choose a different routine each day in order to have variety from day to day.
Each of the eight routines follows the same format: the first drill is long tones and mouthpiece buzzing; the second is crescendo and diminuendo; the third is lip slurs; the fourth is accuracy and dynamic changes; the fifth is alternating tongued and slurred between intervals; the sixth is tonguing (first on one note and then moving around); the seventh and final drill is high and low playing. By applying these "skill categories" as a template to each routine, students are sure to develop all of their skills equally, regardless of which routine is played.
While these routines are intended to be self explanatory for students, teachers may find the following comments about each routine helpful.
Routine #1, Beginning Routine, works well for beginning students but may also be useful for older players who have taken some time off from practicing or for those recovering from an injury. The easy sequence of drills in this routine provides a gentle way to ease back into playing shape.
Routine #2, Air, focuses on getting students to move air through the instrument. As students play this routine, watch them carefully to insure that they are not introducing tension into their playing. In drill #5, students are asked to blow out all their air and hold with empty lungs as they count the rests. The benefit of doing this happens when they inhale after holding and counting the rests; the inhale is organic because the body needs the air to live. This drill is particularly useful to students who unintentionally breathe, then hold their air prior to playing, and who may be preoccupied with how to breathe. When they do this drill they have no choice but to breathe correctly!
Routine #3, Overtone series, emphasizes the natural harmonic series throughout. Students should strive for a constant, steady air flow through the notes. Do not allow the student to hold back the air during the slurs; instead, encourage them to blow through the slurs, creating a lot of sound.
Routine #4, Intermediate Routine, is an appropriate choice for those students who are not quite ready for the advanced routine at the end of this book. The Intermediate Routine may also appeal to older students who have never used a daily routine before but do not want to play the easy routine at the beginning of the book.
Routine #5, Ear Training, encourages students to hear what they are playing. Throughout this routine, singing is used to ensure that students are, in fact, aware of the pitch they are about to play. It is particularly important to demonstrate the singing for students who may be apprehensive or shy about singing. Matching the pitch is more important than quality of voice. Considering this, having the student sing as you play may help those who are having trouble hearing the right pitches. If some of the pitches are out of the student's range, simply transpose to an suitable octave.
Routine #6, B-flat horn, helps students learn to use the B-flat side of the horn. It is appropriate for students who are learning the B-flat side and for those who primarily need to improve tone and intonation. For older students, pay attention to the tone quality to develop consistency of tone between the F horn and the B-flat horn.
Routine #7, Duet / Intonation, allows you to play along with your student, affording you the opportunity to provide a model and to discuss each of the various skills required. Throughout this routine, encourage the student to match your tone quality, intonation, articulation and other musical attributes. It is certainly advisable to play along with your students on all of the other routines as well. Playing one octave lower is often quite helpful, when possible.
Routine #8, Advanced Routine, is appropriate for older players and those who wish to be challenged by higher and lower ranges. Once students have mastered this routine and the others in this book, it is time to graduate to the companion edition: Daily Routines for Horn.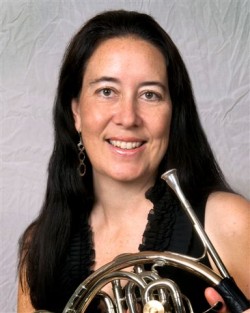 Grammy winning hornist Marian Hesse is Associate Professor of Music at the University of Northern Colorado and a member of the renowned Chestnut Brass Company. Ms. Hesse is an accomplished performer on historical instruments including alto sacbut, natural horn, saxhorn and the quinticlave. In addition to more than a dozen recordings with the Chestnut Brass Company, she can be heard on the soundtrack recording of Ken Burns' The Civil War, the Mozart Orchestra recording music of William Herschel and as principal horn on the critically acclaimed Philadelphia Virtuosi recordings of the Music of George Antheil and Howard Hanson.
Ms. Hesse serves on the Advisory Council of the International Horn Society and the International Horn Competition of America and is an adjudicator for the Jeju, Korea International Brass Competition. Ms. Hesse has performed as principal horn with the Boulder Bach Festival, the Kansas City Chamber Orchestra, the Concerto Soloists Orchestra of Philadelphia, and the Philadelphia Virtuosi. A graduate of the Yale School of Music, Ms. Hesse has studied with Christopher Leuba, Jack Herrick and Paul Ingraham. She holds certificates in Non-Profit Management and Fundraising from the Wharton School of Business of the University of Pennsylvania.