Hesse, Marian (Horn)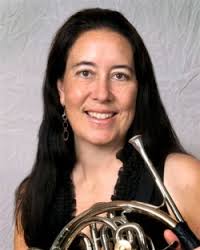 Grammy winning hornist Marian Hesse is Associate Professor of Music at the University of Northern Colorado. A member of the renowned Chestnut Brass Company, Ms. Hesse is an accomplished performer on brasses including the natural horn, sacbut, saxhorn and the rare quinticlave. She has performed as principal horn with the Chamber Orchestra of Philadelphia, the Boulder Bach Festival, the Philadelphia Virtuosi and the Kansas City Camerata. Having toured in 49 of the United States, she has had concert appearances in the Cayman Islands, Korea, Brazil, Mexico, Canada, Germany and Hungary. Among her more than a dozen recordings are performances as horn soloist on the Grammy award winning Chestnut Brass Company recording Hornsmoke and performances with the Mozart Orchestra, the Philadelphia Virtuosi, and the soundtrack recording of the Ken Burns Civil War television program.
Ms. Hesse was elected to the Advisory Council of the International Horn Society, and is on the boards of the International Horn Competition of America(IHCA) and the American Hunting Horn Society. She serves on juries for the IHCA and the Jeju (Korea) International Brass Competition. Ms. Hesse has presented masterclasses at Interlochen, Juilliard, Ohio State, and the University of Oregon, among others. With the Chestnut Brass, she has been a finalist in the esteemed Naumburg Chamber Music Competition and a semi-finalist in the Erwin Bodky Early Music Competition. A graduate of Yale University (MM) and the University of Northern Colorado (BM), she also holds certificates in Non-Profit Management and Fundraising from the Wharton School of Business of the University of Pennsylvania.